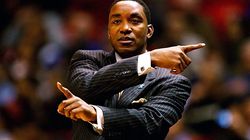 One of the NBA rules guiding its executives — nobody can have contact with a college underclassman. Another put in with the age-limit requirement is that nobody from an NBA front office can scout high school players.
Isiah Thomas' new deal has him both as a full-time college coach at Florida International University (where he would have to come into contact with underclassman as well as high school players) and as a consultant for the Knicks.
This has prompted two NBA owners to complain to the league, according to the New York Post. The names of those two are not known, although the Post's Marc Berman speculates Michael Jordan would be one. We know that the league is investigating the deal.
But the league may approve the contract, at least that's what Frank Isola of the New York Daily News is hearing.
If so, you can expect a run on teams hiring college coaches as consultants, with a bidding war breaking out for top coaches like Tom Izzo or Roy Williams.
And if you were the Knicks, wouldn't you pick up Jim Boeheim of Syracuse as a consultant? The man who was the college coach for Carmelo Anthony, they guy you are trying to recruit next summer?