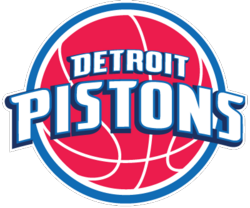 Michael Ilitch owns the Detroit Red Wings. He owns the Detroit Tigers.
And he wants to own the Detroit Pistons – and move their home base back into the city. He is already building a stadium that the Red Wings will call home (Joe Louis arena has history but old) and he wants the Pistons to be part of that, in a statement given the Detroit Free Press.
"No one should get too excited just yet, because this is the first step in what could be a long process," the Ilitch statement read. "There is a lot of due diligence to take place, and who even knows if the Pistons would accept any potential future offer.

"But I can tell you that we are serious about this, we'll be aggressive in the process, and we're going to take a real hard run at it because it makes sense for our organization."

"Whether or not we end up buying this Piston team, we remain focused on a new arena in the city of Detroit, and that will serve as a great catalyst for future economic development in the city."
Pistons current owner Karen Davidson is selling the team she took control of when her husband Bill passed away. The team was his passion, not hers, but she should get a fair deal for the squad. Forbes estimated the Pistons value around $450 million.
This is all good for the Pistons. Ilitch has shows with the Red Wings he knows how to own a legendary franchise and keep it winning. The baseball marketplace is harder (you want to spend against the Yankees and Red Sox?), but Detroit finished one game out of the playoffs last year and went as recently as 2006.
While the Palace at Auburn Hills has history and is still a good facility, moving back into the heart of the city can help revitalize an area. It has with Staples Center in Downtown Los Angeles and can in other cities if managed properly.
Who knows who will end up owning the Pistons in a year, but Ilitch — the man who made his fortune founding Little Caesars Pizza — is as good an option as the league and Detroit fans can hope for.