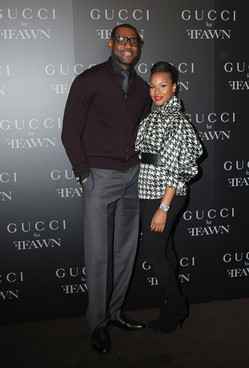 Savannah Brinson does not come off as a woman ready to go on "Basketball Wives."
She sounds like a woman comfortable with herself and her role in an interview with Harper's Bazaar. But don't confuse that with her loving the idea of moving to Miami.
"Personally, Miami was not my favorite place. Vacationing there is great: You go for three days and get some sun, and it's time to go home," she explains. But the weather helped win her over. "When they told me it doesn't get any colder than 50 degrees, that sold me. We get below-zero weather in Cleveland. … I can't wait to have a sunny Christmas," she says. "It will definitely be an adjustment, but we'll make it. We're not complaining."
Brinson lived in the shadows in a way she can't anymore. She sounds like she is becoming comfortable with that. But she is not leaving her roots, either.
She and LeBron's two sons will spend much of the winter in Cleveland, where his oldest son will start school in the fall.
"Cleveland is home," she says. "Nothing is going to change about that."
What about the distance between LeBron and Brinson this will cause?
Some cynics might argue that long distance and superstar athlete equals disaster. And if VH1's hit series Basketball Wives is to be believed, Miami groupies are as gorgeous as they are aggressive. Fresh from the Midwest and flush with cash, James could be quite the target. (His Miami signing deal reportedly netted him $110 million over six years, as well as an estimated $30 million in endorsements from brands like Nike.) But Brinson isn't nervous about their partnership. "I'm not worried," she declares, sounding assured. "We're good. Our relationship is good."
People close to LeBron have said he needs to feel that sense of home, that sense of comfort, and that is important to him. (Those same people said they were surprised at how LeBron handled his decision and the publicity and show around it.) Brinson seems to provide that comfort.
Read the entire article, you won't be calling her a baby mama again.