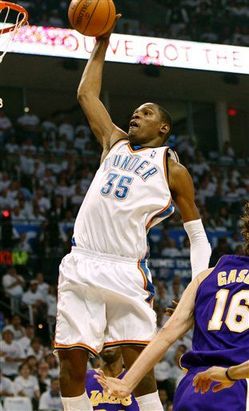 Another sign that Kevin Durant is blowing up — he is now the odds-on favorite to be the league MVP next season. Not Kobe, not LeBron, but KD.
That according to our friends at Bodog.com, who laid out the odds for the award next season:
Kevin Durant 5/2
Kobe Bryant 3/1
LeBron James 9/2
Dwight Howard 13/2
Dwayne Wade 9/1
Carmelo Anthony 12/1
Dirk Nowitzki 14/1
Chris Paul 16/1
Derrick Rose 18/1
Amare Stoudemire 35/1
Chris Bosh 35/1
Deron Williams 40/1
Steve Nash 40/1
Pau Gasol 50/1
Field 12/1
It makes some sense. Kobe has a hard time now living up to the image of Kobe — he's great but the standards set by his own past can be unrealistic. LeBron may win a ton of games in Miami but the lack of love for him around the league and a dilution effect by that trio will hurt him. Dwight Howard? Not unless he learned a lot more from Hakeem this summer than we expect. Anyone else on the list is honestly a long shot.
But Durant and the Thunder are coming in to their own. Well, really they did last year but so many national writers with a vote are a year behind what is happening in the game that they will get around to voting for him now.