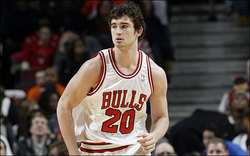 No jokes, no slights, just facts.
Joe Alexander was selected with the 8th pick in the 2008 draft. He has played for two seasons with two different teams, and was denied a team option for his third and fourth seasons, despite rookie scale contracts being the most affordable. Alexander has played in 67 total games over his two seasons, despite being healthy during most of that span. His measurables at the combine suggest that Alexander is an above average NBA athlete, but his NBA production thus far does not indicate a successful translation of those physical gifts.
Corey Brewer, Ryan Gomes, and Kevin Love were the leaders in minutes played among Minnesota forwards last season. Gomes has since been traded. The Timberwolves have acquired Michael Beasley, Wesley Johnson, Anthony Tolliver, Martell Webster, Nikola Pekovic, and Lazar Hayward to fill the Gomes void. There are only 96 total minutes to be played per game between both forward slots.
David Kahn and Kurt Rambis have brought in Joe Alexander for a workout, despite the fact that there may be six players on the depth chart ahead of him should he be signed. Bringing Alexander in for a workout is not the same as signing him to a contract, but…COME ON. Do the sizes, skill sets, and relative talents of the current team mean nothing? Is there any rhyme or reason to the hoarding of similar players, particularly when the rest of the roster has such glaring problems?
If we're being completely factual and objective, this workout makes zero sense for Minnesota. If you allow an even more nuanced understanding of the Timberwolves situation to "taint" that objectivity, it somehow makes even less sense. There's no point in criticizing any GM over an end-of-the-bench move, much less a workout that could decide one. Still: Joe Alexander? Really?