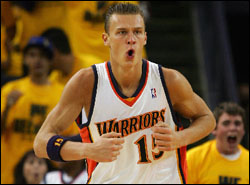 This summer, Andris Biedrins isn't working out with the Warriors. He went off on his own.
And after a year where his coach generally jerked him around then called him on his (admittedly terrible) free throw shooting, a year where he thinks the team doctors may not have been forthcoming about his injury, it's kind of hard to blame him.
All this comes out in a forthright interview he did in his native Latvia recently. Warriors World had the interview translated for us.
It all starts with talk of his off-season conditioning, and why he went away from working with the Warriors.
"It was me and my agent's decision, we decided to go our own way.  It's a risk, but, at the same time, after the first injury early in the year, the Warriors said that it's nothing special. When I had to do surgery, my agent and I, we were a bit disappointed, we thought that, maybe, surgery was the right course of action from the start. The franchise naturally tried everything to keep me in, because if I had surgery early on then I might have missed the entire season. We felt like the team made me play to quick after the first injury; so we decided to go our own way on this – our doctors and experts."
As for Don Nelson commenting on Biedrins' free throw shooting…
"When he said I should practice underhanded; I felt very disrespected.  At one point I spoke to a Psychiatrist who reminded me of some things, but it's not so bad that they send you and try to brainwash you. It's mostly about believing in yourself, because, before this season it was more or less OK.  You start thinking about so many things at the free throw line that you forget everything and anything about the actual free throw motion and what you've practiced."
He doesn't have a lot of love for the GSW locker-room either…
I can tell you right now, about our team, most of my teammates are egoists. But what can you do?  It's important to have good veterans as the rookies and young guys will take after them.  Right now, I would say I don't have a good relationship rather a neutral or friendly one with everyone on the team.  I don't have any problems with any player and I don't think anyone has a problem with me. Of course, we aren't real big buddies, but our relationship is on a professional level and we can work successfully."
It will be interesting to see how a new coach uses Biedrins next season. Or if there will be a new coach next season and instead Biedrins gets another season of Don Nelson mind games. Either way, Beidrins seems to have figured out how to be his own man.