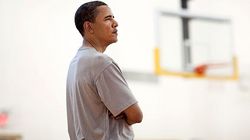 Turns out there is one other person who can put together a superteam besides Pat Riley.
President Barack Obama summoned some of the biggest stars in the NBA to play a special game for wounded troops, according to the Associated press.
Playing were LeBron James, Dwyane Wade, Carmelo Anthony as well as legends Bill Russell and Magic Johnson. University of Connecticut star women's team player Maya Moore was also part of the event.
There aren't a lot of details from the event as reporters were shut out of the event. Which means a couple of things most likely — Obama talked some trash, and the troops had a good time.  The second part is the only important part.