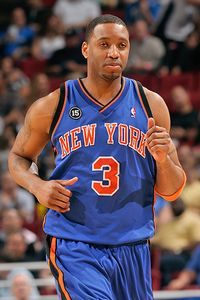 Tracy McGrady has had two workouts for teams.
There was the Clippers, but that was almost considered a favor for his agent and an effort to put pressure on Chicago to act. The Clippers roster is was fairly set and McGrady was not going to be part of it unless he blew them away. He didn't.
Then there was Chicago, who needed a floor spacing wing man to come off the bench. He had his workout and… the Bulls yesterday signed Keith Bogans to a deal.
McGrady knows what that means, according to Marc Stein of ESPN.
It's been nearly two weeks since McGrady's audition at Chicago's practice facility, when he appeared to create his own obstacles to landing a Bogans-esque deal by following up the workout with a flurry of comments that suggest he still sees himself on Carlos Boozer's level … when the Bulls were hoping to hear accept-any-role humility.
McGrady's other problem was the Bulls also were (and are) intrigued by Rudy Fernandez, the Portland guard who wants to be a guard anywhere but Portland. The issue there, according to Stein, is that Portland wanted Taj Gibson and Chicago was only offering a pick. Those two sides remain far, far apart.
Which doesn't really help McGrady.
After the Bulls and Clippers worked him out and then went in different directions — and with the Miami Heat seemingly out of roster room and thought to be highly hesitant to bring in big names for the LeBron James/Dwyane Wade/Chris Bosh supporting cast — there are no other known suitors in circulation for T-Mac.
And in the wake of what happened with Allen Iverson last year, teams will be hesitant to bring in an aging player with a big personality who still thinks he can play a big role, when his body keeps him from that level.