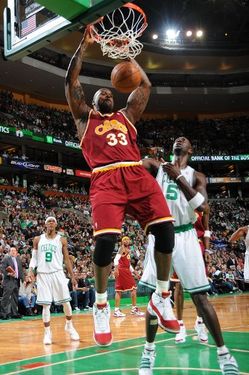 Shaquille O'Neal and his people tried hard. They pushed the idea that he as a bargain at the mid-level exception of $5.8 million, that he was a guy who should start and get big minutes still.
That is what got in the way of him coming to Atlanta, and saving face was why he chose Boston, according to Michael Cunningham at the Atlanta Journal Constitution.
I've been told that Atlanta wouldn't budge on giving Shaq a starting nod over Al, who is after all still only 24-years old and an All-Star. Shaq believes he will get the starting nod over Jermaine O'Neal in Boston as Kendrick Perkins rehabs from his knee injury.

Atlanta also wasn't willing to pay Shaq more than the minimum and that was a sticking point for him. He didn't want to sign for the minimum when the Hawks had their bi-annual and mid-level exceptions available because of the perception that would create-as in the Hawks could have paid him more but didn't. That's not the case with Boston, which had neither of those exceptions and so could only give him the minimum.

The big guy still has his pride.
The Hawks may not need Shaq, but they do need a big body. They were pushed around by the Orlando Magic in the playoffs; they need to be able to counter the big front lines in Orlando and Boston. And, frankly, Milwaukee, who would have beaten them in the first round if Andrew Bogut had been healthy.
But when the best name on the market may be Kwame Brown, well, the pickings are slim. Scott Schroeder at Ridiculous Upside may have hit the nail on the head, suggesting the Hawks give a young player like Garret Siler or Alade Amimu, who played for the Hawks at Summer League, a chance. He lists some other guys the Hawks would be wise to consider.