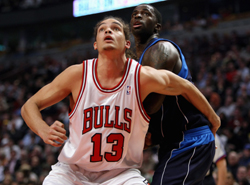 You don't think of France as an international basketball powerhouse — because they are not — but they were going to roll out an impressive and long NBA front line in Turkey next month: Joakim Noah (Chicago), Boris Diaw (Charlotte) and Ian Mahinmi (Dallas).
Well, they still have two thirds of that.
French coach Vincent Collet said Noah will not play for the team at the FIBA World Championships.
"I was pessimistic and now I can tell you it's a done deal," he said. "We must turn the page. That is what I have done."
Noah has had talks with the Bulls about a possible contract extension (he is heading into the last guaranteed year of his rookie deal). He was hesitant to risk injury playing in the World Championships while trying to negotiate a new deal.
France also will be without Tony Parker, but that might be fine with Rodrigue Beaubois on the team. And there is a chance Collet may actually play Beaubois in key minutes (you listening, Rick Carlisle).
France is in a tough group, with powerhouse Spain, Lithuania, New Zealand, Canada and Lebanon. That's one they should advance from, however, but the loss of Noah does not make that easier.