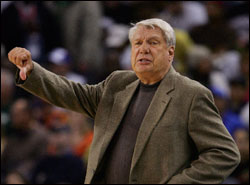 One does not win more games than any other NBA coach in history if one is not smart.
Don Nelson is smart, he knows what is happening with Golden State. He knows there is new ownership, he knows there are plans to let him go.
So he is not coming back to the Bay Area until he gets a call from the team, Nelson told FanHouse's Sam Amick. And if you're going to wait for a call, Maui is about the best place on the globe to do it.
"(I'm here) until I get a call to come home," Nelson said with a laugh Thursday when asked when he might return to Oakland, Calif. "I know nothing."

"It's just part of the business of basketball, really," Nelson said of the uncertainty. "I'm doing the same thing I've done every summer on my time off. Nothing has really changed."
Front man for the new owners Joe Lacob has hinted that Nelson will be let go at some point. But that point could be after this season — Nelson is owed $6 million for the coming campaign. That is money he collects whether he sits on the Warriors sideline or in his waterfront Maui home. And when you factor in the $4 million or so for a new coach to replace him, that's a lot of money for ownership to spend, particularly owners who had to outbid one of the world's richest men just to get the team a month ago.
Nelson may return to the Warriors for one more season. He may not. He doesn't know. He's just waiting on a call.