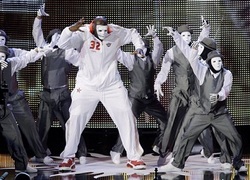 Shaquille O'Neal has appeared in 15 All-Star games. He has only danced with the Jabbawockeez at one of them, but he's been to the game a lot.
So have his Celtics teammates — they have 54 All-Star appearances as team. As you might imagine, that is far and away the most in the NBA.
That's a good thing, right? Not according to the Wall Street Journal.
Among the 10 teams since 1991 that had the highest number of All-Star selections heading into a season, only one went on to win the title, according to Stats Inc. Four of them got knocked out of the playoffs in the first round and two missed the playoffs entirely.

Over the same time span there have been 38 teams with at least 20 All-Star selections. Only four of them won championships. Six didn't even make it to the postseason.
Why? Because if you've racked up a lot of All-Star appearances, then you've been in the league a long, long time. You're old. And that tends to catch up with teams.
It didn't catch up with Boston last season (that team had 34 All-Star games between them, but they did lose in the Finals). That was in part due to the young Rajon Rondo, in part because Doc Rivers did a fantastic job during the regular season to rest guys and take care of their minutes so they were healthy come the playoffs. But that challenge will be even tougher for Rivers this season.