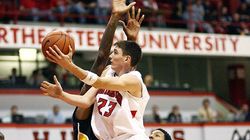 You didn't see Matt Janning in college because he played for Northeastern and you probably can't even tell me where that is located.
This is why there is Summer League. Not to learn where Northeastern is but to showcase guys like Janning (who didn't even get invited to the Portsmouth Invitational). He fit in well on the Suns' Summer League squad, scoring 12.6 points per game and more impressively he was second on the team in rebounding. As a guard.
The biggest key was he showed a feel for the game and transition basketball. He was a guy who caught your eye if you watched a couple Suns games because he just seemed to make the right play. You could see him developing into a rotation player in a couple years.
Now the Suns are giving him a chance to make the roster, signing him to a make-good deal, according to the Arizona Republic's Paul Coro.
Janning is a good athlete, is 6'5″ with a 6'9″ wingspan, and is really a combo guard. A good guy to have on the bench and see if you can develop.
Janning could end up being the fifth guard on the Suns roster, and as a combo guard is a good fit in that role. He just has to earn it in camp.