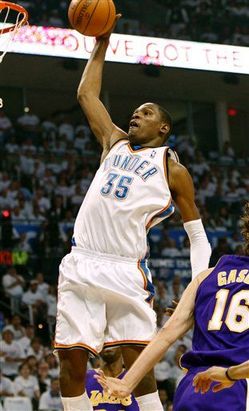 What is the dollar value of a win in the NBA? If there was no salary cap and every player was compensated based on how many wins they produced, how much would the best players in the league be worth? Since there are salary cap rules and restrictions, which players are giving their teams the biggest bang for their buck?
Tom Haberstroh wrote an article that touches on those questions today. Using salary data from last season each players WARP2 (A statistic that estimates how many more games a team won with the player in question than they would have if a "replacement" level player replaced him), Haberstroh put together a list of the
biggest bargains in basketball last season
. 
Even though LeBron James made 15.8 million dollars last season, Haberstroh says that he was the biggest bargain in the league; in a free market, James would have "earned" $57.2 million last season. Kevin Durant and his $4.8 million salary put him in second place — his play was theoretically worth $41.1 million last year. 
Rounding out the list are players like Dwyane Wade, Rajon Rondo, Jason Kidd, Josh Smith, David Lee, and many more. I encourage you to check out the full list — it's an interesting look at which players gave their teams the best possible return on their investment.