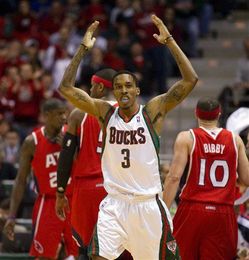 NBA mentors are typically cherished for one of two things (or sometimes both): an extended NBA shelf-life (see Ollie, Kevin) or notable refinement of their game (see Olajuwon, Hakeem). A mentor is a veteran, a pro, a hard-worker, an example for his team, or really, his teammates.
That's probably not the lens with which you've viewed newly-signed Buck Keyon Dooling, but maybe it's time to start. From Charles F. Gardner of the Milwaukee Journal Sentinel:
"Keyon understands the league and what's important," said Bucks assistant general manager Jeff Weltman. "If
you look at any kind of task as saying you have X amount of chips to
spend, Keyon knows where to spend his chips. He understands how it
works. He's going to help not just Brandon but a lot of our young guys,
I think."

…"I
failed miserably as a young player and I had an opportunity with Miami
to rekindle my career," Dooling said. "I learned so much in Miami and I
still use some of those principles today."

…Dooling,
a Fort Lauderdale, Fla., native, said he was looking forward to playing
with Jennings, who started all 89 games for the Bucks last season while
being named a first-team all-rookie selection. "Sometimes
guys don't want to be beat over the head with information and telling
your life story," Dooling said. "I've had some conversations with him
last year through a mutual friend. I
think I have a unique ability to communicate with players, no matter
what the situation is. Anything I know that I can help him with, I'll
give him. On the court, off the court, in life, whatever it is that he
needs, I will always be there to give it to him and any one of my
teammates."
There's no real reason why Dooling can't be a mentor for Jennings. He's faced career hardships. He's rehabbed from injury. He's never carried the burdens that Brandon eventually will as one of the faces of the franchise, but in terms of guys who have been there and back again in the NBA, Milwaukee could do far worse. Dooling carved out an NBA career for himself on the strength of his defense, and while Jennings had an impressive rookie season on the defensive end, he could still stand to learn plenty.
Dooling has never and will never be a star, and though he's been in the league for ten seasons, he's still 29 years young. No matter how you slice it, Dooling's a bit unconventional by the NBA's big brother standards. Still, he has a proven and long-lasting defensive pedigree, and gradually improved the effectiveness of his jumper over the course of his career. He's a hard-worker and a professional, and though he isn't a high-level NBA talent or one of its senior members, Dooling still has plenty to teach.