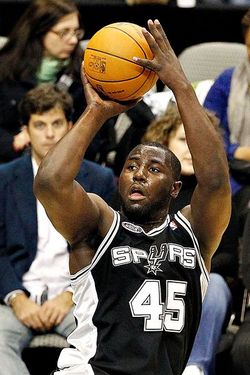 For once, the questions about DeJuan Blair's leg had nothing to do with his lack of ACLs.
Blair missed Summer League in Vegas because of a bruised calf muscle. Nobody knew a lot about it, but the word out of Spurs camp was it was not serious and he was sitting down more for precautionary reasons.
Turns out that was the case. And he's feeling good now, thank you very much.
To prove he was feeling better, Blair threw down a few dunks at the Spurs youth camp, according to Jeff McDonald of the San Antonio Express-News.
This was never a serious injury, he got it bruised during a workout before Summer League, and everyone decided best to rest it. Because it's Blair and a leg injury — and you know, that whole lack of ACLs thing — there were questions about how serious this really was.
It wasn't. He's fine. And he'll be back making a lot of GMs regret not picking him this fall.