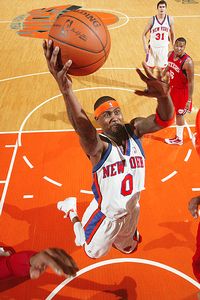 Last season, Larry Hughes made $33,000 per point scored. Which is what happens when you pay a role player $13.6 million for the season.
But that number might be a lot more reasonable at the veteran minimum, and apparently a few teams wouldn't mind bringing the veteran swingman off the bench for a few minutes a game.
Both the Boston Celtics and Charlotte Bobcats have taken a look at Hughes and are interested, according to Marc Spears of Yahoo.
Hughes' play the last few years inspired the birth of heylarryhughespleasestoptakingsomanybadshots.com.
Not only are the shots questionable but he did shoot he hit just 35.5 percent of them last season. Hughes as a gunner back seven years ago when he was scoring a decent number of points for Washington and Golden State. Now, the gunner mentality is still there but the shots fall less often. And they never really fell as much as you would hope.
But apparently Hughes looked good in workouts. And Boston could use another swingman off the bench with Tony Allen gon. If you could keep him in a limited role and limit the bad shots, there might be a role for Hughes. Big "ifs" but a couple teams seem ready to take them on.