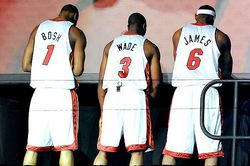 Nobody is going to be better than the Miami Heat at the two, three and four spots.
But picture them playing Orlando. Jameer Nelson has the ball (guarded by Mario Chalmers) and Dwight Howard (covered by Joel Anthony) comes out to set the high pick. That is a hard-to-stop P&R combo for any team, and the undersized Anthony is really going to struggle to stop the strength of Howard rolling to the rim. LeBron, Wade and Bosh are going to have a hard time helping out because you can't leave Orlando's perimeter shooters (especially when JJ Redick is in for Vince Carter).
Can Orlando beat Miami this way? Can some combination of the O'Neals (Shaquille and Jermaine) along with Kendrick Perkins (when he returns from injury) do the same thing for Boston? Is there a model for beating the Heat?
Center appears the place to attack. But as Ira Winderman points out in the South Florida Sun Sentinel, it's not that easy.
I think Wade and LeBron, and to a degree even Miller, rebound very well for their positions. Look, you can't have it all, but I think the Celtics are somewhat of a size exception in the East. And it's not like they will have more than two bigs on the floor at any time. If they did, it would mean Pierce or Allen or Rondo would be off the floor, which actually might favor the opposition.

Again, I think it's all about matchups. Against the Celtics, Magloire will play. Against the Magic, the Heat might even try Udonis' defense against Howard. Look, on most nights the Heat will be overmatched at center. But the opposition also will be overmatched at power forward, small forward at shooting guard. Heck, Michael Jordan's Bulls often were overmatched at center, and they did just fine.
Only a handful of teams can even dream of matching up with the Heat. Particularly in the regular season, when teams have limited time to prepare and game plan.
What will be more interesting is the playoffs. Orlando and Boston certainly have some personnel that create their own matchup problems, some things to try and exploit. And those are two teams that reached the finals the last two years because their players know how to go right at a weakness.
The Heat have their own advantages to exploit. And that may well more than cover any weakness at the five. The regular season Heat are going to be a lot of fun. The playoff Heat are going to be interesting, because then we will see just how good they really are.