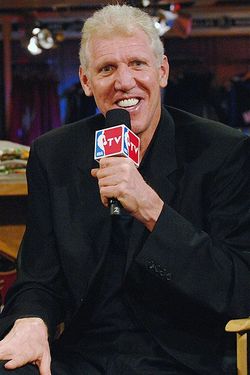 Roy Hibbert has developed into a good center.
Decent shooter with enough of a midrange game to make you respect it. Nice rebounder. Solid enough on defense.
Bill Walton expects more of him. One of the legendary centers of the game before he became an over-the-top broadcaster, the Pacers have brought in Walton to work with Hibbert, to give him some tips and some inspiration. To push him.
Of course, with Walton comes the hyperbole, as recorded at the Pacers official site.
"He has to control the paint. It's not his choice, it's his responsibility, it's his duty, it's his obligation. He has to learn how to do that on an individual basis. He has to learn how to do that on a team basis. It's a matter of how hard he's willing to work not just physically but mentally, as well, and to train his mind so that in the heat of battle he can make the correct decisions that are going to allow him to become a great champion and return the Pacers to their rightful place among the hierarchy of the NBA."

"The goal is to raise the foundation, broaden the spectrum of skill and help him learn, help him develop, help him grow and realize what it takes and what's at stake. When you're 57 years old, it's easier to understand all that stuff. When you're 23 years old and the world is swirling around you, it's difficult. My job is to help and to always be there for Roy, for Larry (Bird) and the Indiana Pacers."
The good news for Pacers fans is that Hibbert is staying in Indiana for a chunk of the offseason and putting in the work. He is entering his third year in the league and while he has been good there is room for great in parts of his game. You can see it.
We'll see if Walton is the guy to get it out of him.