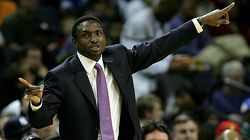 This is what you get when your team has a Russian owner.
Nets coach Avery Johnson is in Moscow and both played and coached in a pickup game with CSKA Moscow, the Russian squad Mikhail Prokhorov owned before he purchased the Nets. The official Nets Web site has pictures and tells of the events (via TrueHoop).
He warmed up with the Russian players, all kitted out in Nets gear, and then put them through their paces.  One player was overheard asking why he had to skip across the court.  Coach Avery then changed into a CSKA jersey.

Joining Coach Avery was Sergey Kushchenko, the former President of the CSKA basketball club, who led the team to two Euroleague championships when Nets owner Mikhail Prokhorov was the team's sponsor. Sergey now serves as the Chief Executive Officer of Russia's Biathlon Union, which has Mikhail as its President, and is one of Mikhail's closest advisors on sports.
Also, Avery Johnson's 15-year-old son held his own. May be time to get him and Austin Rivers (Doc's boy) together for a game.