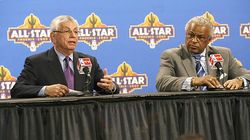 At least they're talking.
Next week representatives of NBA owners and the Players Association are going to sit down in a room and talk about the next Collective Bargaining Agreement, according to Ken Berger.
Back at the All-Star Game, David Stern and the owners submitted a proposal that the players dismissed out of hand. It called for a hard salary cap, no guaranteed contracts, plus lower maximum contracts with shorter durations.
In June, Billy Hunter (executive director of the Players Association) and the players submitted an offer that they themselves admitted was pretty much keeping the status quo.
The two sides remain miles apart. And by miles we mean Portland, Maine, to San Diego far apart. The owners are not backing down from their position that they are losing money, that salaries are the problem and that the basic economic structure of the league's salary structure has to change.
Players on the other hand will point to this summer's free agent spending spree and the fact league revenues were up slightly despite the recession and that player salaries were actually down slightly last year.
What will not happen at next week's meeting in Manhattan is the show of star power seen in the last face-to-face meeting in Dallas All-Star Weekend. LeBron James, Carmelo Anthony, Dwyane Wade and a host of others sat at the table. This time the stars will not be there, which the owners see as a sign of little solidarity among the players, Berger said. LeBron got his payday, he doesn't care anymore will be the perception.
The perception among people on both sides is that a lockout is basically inevitable. The owners are going to use this recession to try and force a more favorable deal for them on the players. The players look at this summer's spending spree and think the problem is not the system but the owners' inability to control themselves and not spend lavishly on players.
But at least they are talking.