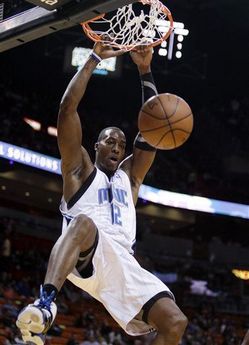 China is the world's most populous country, and the NBA has made very public efforts to woo that country. Including the Rockets and Nets going to play a couple preseason games this October.
India is the second most populous country on the planet, but the NBA has largely ignored them.
Until now. The league announced Wednesday that Dwight Howard is going to do a goodwill or India, including working with that country's national team in advance of the Asia Games this summer.
He also will conduct coaching and player clinics for Mahindra NBA Challenge participants, the NBA's first community league in India. There is an NBA Fan Jam there as well.
Apparently, basketball is a sport a lot of people in India play in their youth but don't really follow as they get older. Sort of how much of America treats soccer. It doesn't seem to get the blood going in India. Cricket does, because who doesn't love a good five-day test? Field hockey, badminton and of course soccer are popular. But basketball has a long way to go.
Sending Dwight Howard there is the first step. But this is going to be a longer, harder struggle than it has been in China. There are no players from India in the NBA (it's doubtful there are any ready for major Division I college ball). It is going to take many years of sending players, hosting clinics, finding ways to put the game at its highest levels in front of people.
Sending Howard is a good start.