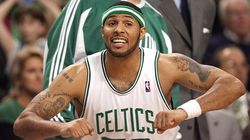 Eddie House already came to an agreement with the Miami on the terms of a two-year contract, but he's now officially a member of the Heat according the Associated Press. Miami inked House to a two-year, $2.8 million contract, one of the great value signings of the tail end of free agency.
House is a good role player for just about any team, but on one with three offensive pillars like LeBron James, Chris Bosh, and Dwyane Wade? He'll be absolutely fantastic. House doesn't need much space to initiate his lightning-quick release from three, and he's proven over the course of his career that he's anything but gun-shy. That's exactly what the Heat need from their complementary players: guys who are both willing and able to shoot from the outside.
That should make him a valuable perimeter option for Miami off the bench, and he's even capable of playing "point guard" (or something resembling one) alongside the Heat's three stars. The playmaking abilities of James and Wade more than make up for House's deficiencies, and on a team like this one, Eddie is simply asked to come as he is. He'll bounce around the three-point line, knock down perimeter looks at a high rate, and make a legitimate impact as a somewhat one-dimensional player.
House isn't a great defender. He's can handle the ball, but he's not a great passer. But he's a great fit.