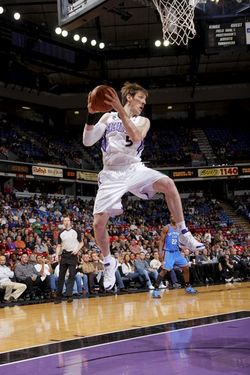 There is good news for Philadelphia — Andres Nocioni should be healthy and ready to go by training camp in December.
Argentina basketball fans, the news isn't as good.
Nocioni sprained his ankle last Friday while training with the Argentinean national team for the upcoming FIBA World Championships in Turkey. Sixers doctors just got a look at the film from the injury and have said it looks like a lateral sprain, according to the Philadelphia Inquirer.
Those take three to four weeks to heal properly. That would have Nocioni back at the start, or maybe the second round of the World Championships, though maybe not at 100 percent.
But with training camp for the NBA season not opening until last September, Nocioni should be in good shape by the time he returns to the NBA.