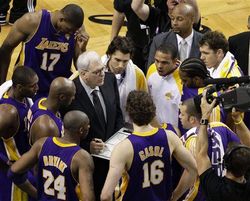 Did you really think there was any chance the Lakers would not be an opening night game? What with the rings and the banner and Kobe, you think the NBA wasn't going to put their other big attraction out there?
Then add in the return of Yao Ming, with all of China tuning in, and you have a ratings winner. And something the NBA can hype until you're sick of it.
It's happening. Lakers vs. Rockets will be the second game of the opening night doubleheader on TNT Oct. 26, right after the Heat and Celtics go at it.
This could be a good one. The "ring game" is often a trap game, where the champions get caught up in the celebration while the other team stews and comes out pissed off. The Rockets with a healthy Yao are one of the teams that could really challenge the Lakers in the West, and while the first game of the season tells you nothing about May and June, it still should be an entertaining night.