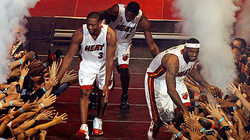 You wanted to be big time, you wanted the spotlight Miami. Well you got it. And everything that comes with it.
Like a tough first week. First you get the Boston Celtics in Boston. Three nights later you get to host the Orlando Magic. The last two Eastern Conference champions in your first two games. Two teams with the size at center to attack your on-paper weakness.
It's a big break for Boston and Orlando. There will be no easy games against these Heat, but you want to catch them before they really gel. This team is built to win a lot of regular season games (and playoff games) but there will be some adjustment period with an entire new roster. They will be good at the start, but two more established teams that know themselves will have an advantage in October they would not by January.
To be fair, Orlando is not very happy with this schedule either. They open their new Amway Center against Washington on Oct. 28 then one night later get Miami on the second night of a back-to-back. A rested Miami.
I know what Stan Van Gundy said when he saw that schedule. I can't print it, but I know it.
The other games we know about the Heat: Christmas Day they are in Los Angeles to face the Lakers. Earlier in the month, Dec. 2, LeBron James makes his first return to Cleveland in what will be a highly charged, highly anticipated game.
But first the Heat have to get through a difficult first week. It's the price of being on the marquee.