Yesterday the D-League's Erie BayHawks and Rio Grande Valley Vipers announced that they would add sponsor advertisements to their team uniforms for the coming season. Now, thanks to NBA.com (via Scott Schroeder of FanHouse), we have our first look at the D-League's walking billboards: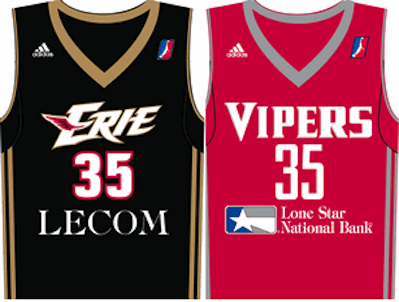 According to Schroeder, the WNBA's jersey ad model scored participating franchises over $1 million per season, though the D-League look (featuring the team name and the advertisement rather than the team name being replaced by the advertisement) may not be quite as lucrative due to the less favorable placement.
While yesterday I noted that NBA teams were unlikely to go the full ad route with their uniforms, this is a more reasonable model that could definitely be palatable to big league teams. Particularly in small markets, the allure of adding a sponsor's logo for some quick, easy cash may be too good of a deal to pass up.