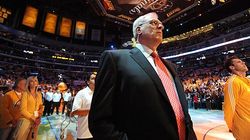 It's now official — Phil Jackson will be back with the Lakers next season.
He will be back to go after his fourth three-peat as a coach. Which is insane. He will be back for what he called his "last stand." As if the Lakers needed more motivation.
Late Monday Jackson formally signed his new deal with the Lakers, according to Ramona Shelburne with ESPNLosAngeles.com. This was a deal that some questioned if he would take as the season wore on, one he himself had doubts about signing days after the season ended. In the end, the lure of another title was too strong.
What is not yet known is the terms of the deal. With a championship bonus last year, Jackson made close to $14 million, however he admitted that he was going to need to take a pay cut to stay on.
The Lakers coaching staff will remain the same. Heir-apparent Brian Shaw will be the lead assistant with Frank Hamblen and Jim Cleamons also. Chuck Person, who has been the shooting coach for the team, has been added as an assistant coach as well.