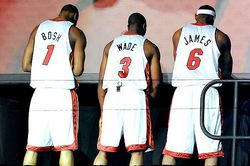 It's the hot hot Heat.
And the Lakers. But mostly the Heat. And if you can pair them then all the better.
As for the other, unmentioned half of the league… you don't seem to matter much.
That's what becomes obvious as you look at the highlights of the NBA schedule released in a new television special on NBATV Tuesday night. (What is it with the NBA and televised announcements this summer?) The NBA is going to sell its stars, sell its marquee teams. The rest of you can go play in the shadows.
Opening night is a perfect example. First game is the debut of the Miami Heat at the Boston Celtics. So plenty of "old big three vs. new big three" hype there. Then the second game is the expected return of Yao Ming and his Houston Rockets against Kobe Bryant and the Lakers on the night they get their rings and put up a new banner.
Or check out Christmas Day, when the two marquee, ABC games are Boston at Orlando then Miami at Los Angeles Lakers. Stick with the stars.
There are three other Christmas Day games, but it's not like the NBA went away from showcasing big names: Chicago at New York, Denver at Oklahoma City, Portland at Golden State.
And on and on an on. You are a glamour player on a glamour franchise or you don't get mentioned. Atlanta? Can't find them. Dallas? Not mentioned. Forget being Memphis or Minnesota. Or Cleveland now.
Here is the rest of the already sponsor-sold Kia Motors NBA tip off week includes an interesting game with Chicago at Oklahoma City on Oct. 27, along with a second game of Portland against last year's number one pick Blake Griffin and the Los Angels Clippers. Both of those games will be on ESPN.
On Oct. 28 the Orlando Magic will open their new Amway Center arena against No. 1 pick John Wall and the Washington Wizards. Then it is Phoenix at Utah, a battle of revamped teams with top point guards.
On Oct. 29 it is Orlando at Miami, followed by the Lakers at Phoenix. Your televised games the next three nights: Denver at Houston on Oct. 30; Utah at Oklahoma City on Halloween, then Portland at Chicago on Nov. 1.
Stars baby. Sell the Heat. Sell the Lakers. Sell Boston and Orlando and Chicago. The rest of you, you're on your own.