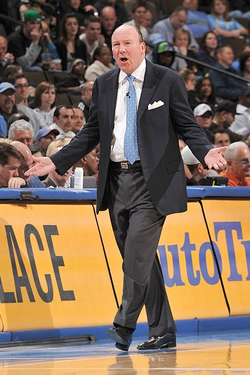 Vinny Del Negro, this could be your future.
The legal battle between former coach and general manager Mike Dunleavy and the Clippers and owner Donald Sterling continues. It's a soap opera not sexy enough for People magazine, but Courthouse News is all over it.
The Los Angeles Clippers and their owner want to stop former head coach Mike Dunleavy from arbitrating his claim that the team still owes him $6.75 million of a five-year, $22 million contract.

After seven years with the team, Dunleavy resigned as head coach this February and was fired a month later from his position as general manager.

In June he filed an arbitration claim against the NBA team and owner Donald Sterling, claiming he had been fraudulently induced into signing the employment contract.

But Sterling says an arbitrator can't rescind the contract, as Dunleavy wants, because the former coach's claim "is based on purported representations and promises" made "outside the scope of the employment agreement," (original emphasis).
The best part is Sterling and the Clippers say they were fraudulently induced into signing the contract because Dunleavy knew he would not fulfill the contract. Even though the Clippers fired him.
Bottom line is Dunleavy wants to go to arbitration and Sterling wants to go to court. Sterling tends to view contracts as very black-and-white — if you're not working for me I shouldn't be paying you, guaranteed money be damned. Clipper coaches dating back to Bill Fitch have had to use lawyers to get their money out of the Clippers. This is just the latest in a long line, which will no doubt continue through future coaches as well.