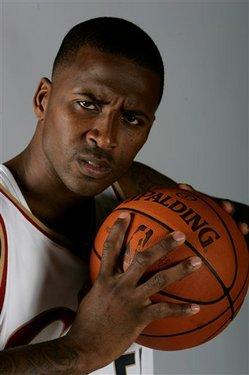 Memphis police aren't talking — usually a sign they have some solid leads and information — but their actions suggest they are focusing on former NBA player Lorenzen Wright's ex-wife in the investigation of his murder.
Sunday police combed through the home of Sherra Wright, who was apparently the last person to seem him alive and unharmed. Now Wright's former personal assistant Wendy Wilson told the local ABC affiliate in Memphis she has audio recordings of Sherra threatening Lorenzen (via FanHouse).
"I have the evidence that she said these things and she knows it," Wilson told myeyewtinessnews.com, Memphis' ABC affiliate.

Wilson went on to say Sherra said "things like, if she caught him with anyone else, she'd have him 'f'd up' or whatever."
Sherra Wright's attorney says that the police looking through the home was just a normal part of an investigation, something he told the same affiliate.
"I just assume it's part of the routine investigation," said (Coleman) Garrett. "They're looking for clues, they're looking for evidence. They're trying to find answers, and that would be one of the logical things to do, to search any premises where Lorenzen was last known to be."
Also, despite rumors to the contrary in Memphis, Wright has not been arrested.
"No, she's never been in police custody, and I don't know where all these rumors come from," said Garrett. "And that's why we don't intend to add to them with her speaking on camera or present, what have you, because it's just going to exacerbate a bad situation, and people are going to have their opinions and misconstrue what is said."
Lorenzen Wright had been at his ex-wife's house on July 18 visiting his children. Several hours later a brief 911 call came from Wright's cell phone to a Germantown, Tenn., dispatcher and gunshots were heard. On July 22, Wright's family filed a missing person's report. On July 28 police found Wright's body, shot multiple times, in the area where the 911 call had come from. The delay in using that call is also being investigated, according to the Memphis Commercial Appeal.
Wright had been a star at the University of Memphis and had gone on to a 13-year NBA career.