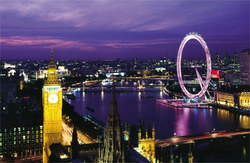 David Stern has been saying he wanted to see some NBA regular season games overseas, and what David Stern wants David Stern gets.
Now it's London calling, so come out of the cupboard, all you boys and girls.
The New Jersey Nets and Toronto Raptors will play back-to-back games in London March 4 and 5, according to the New York Daily News. Those follow he Lakers/Timberwolves preseason tilt at the O2 arena in London this October.
This matchup makes some sense. The Nets under new Russian owner Mikhail Prokhorov are trying hard to build an international fan base to bring to Brooklyn. Toronto, on the other hand, has pretty much built a EuroLeague team.
The Nets start the season Oct. 27 at their new home, the Prudential Center in Newark, against the Detroit Pistons. The other question everybody wants to know: The Miami Heat come to Newark on Halloween.