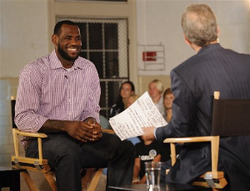 LeBron James on the court does so many things right.
LeBron James off the court this summer has done so many public relations things wrong.
Two days after Zydrunas Ilgauskas wrote a heart-felt personal letter to thank the city of Cleveland, LeBron James has taken out a full-page ad for a letter thanking the city of Akron for supporting him — and not once mentioning Cleveland. This after "The Decision" ripped the hearts out of Clevelanders on national television (and seemed to galvanize fans of other teams against the Heat).
Thing is, many of the people in Akron do not consider Cleveland their home. Two different places with a little rivalry going on. Throw in the reaction in Cleveland to the decision and LeBron may not feel he owes that city anything.
He is wrong. He needed to make some gesture to Cleveland, although now that ship has sailed.
The letter in the Akron Beacon-Journal comes the week of LeBron's annual bike-a-thon for charity through downtown Akron.
Here is the text of the ad:
To My Family, Friends and Fans in Akron:
"For all my life, I have lived in Akron — and for that, I am truly a lucky man.
"It was here where I first learned how to play basketball, and where I met the people who would become my lifelong friends and mentors. Their guidance, encouragement and support will always be with me.
"Akron is my home, and the central focus of my life. It's where I started, and it's where I will always come back to. You can be sure that I will continue to do everything I can for this city, which is so important to my family and me. Thank you for your love and support. You mean everything to me."