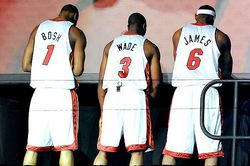 LeBron James became an unrestricted free agent and left. Chris Bosh became an unrestricted free agent and left. Amare Stoudemire became an unrestricted free agent and left. Carlos Boozer became an unrestricted free agent and left.
The radical shifting of the NBA landscape has some in the league (and some fans) asking if that much movement is a good thing?
You can bet owners — particularly small market owners — will fight in the upcoming Collective Bargaining Agreement talks to limit that movement. They will say they need to be given the tools to keep players in the fold. They will argue that without them the NBA will become Major League Baseball, where some small market teams are perceived as farm teams for the Yankees and Red Sox.
NBA owners would love a more NFL-style system: A hard salary cap, and no guaranteed contracts (players get signing bonuses instead, something not really done in the NBA).
And there is the franchise tag.
That tag (and the start of NFL training camps) has people all over the NBA asking if it is a good fit in the NBA.
You can bet they think that in Cleveland and Toronto.
The franchise tag allows a team to tie an unrestricted free agent to them for one more year. An exclusive franchise tag takes away a player's right to negotiate — he stays with his team on a one-year deal worth 120 percent of what he made the year before or the average of the top five players at that position in the league, whichever is higher. There is also the lesser-used non-exclusive tag, where players can negotiate with other teams but the "home" team can match, and if the player does leave his former team gets two picks as compensation.
In the NBA, it would have allowed Cleveland to keep LeBron James for one more year at a max deal. Same with Chris Bosh in Toronto. After that one-year deal, the team could renew the tag the next year, in practice locking a player with a team in a series of one-year deals.
The NBA's current system already gave those teams advantages — they could offer larger raises and one more year than other teams — but it was not enough. Should teams be able to force a top player to stay and maybe not have that salary count against the cap?
How fair is that to the players? In the case of LeBron he actually took less than the maximum to move. Should a player who is willing to take less money to move be restricted from that movement? Is that fair? If you wanted out of your current job enough to take less to move to another company, should you be restricted from that? Is that fitting the American ideal?
CBS's Ken Berger bounced the idea off a few people and got an interesting response.
"The league would love to have [a franchise tag] in place to maintain competitive balance," said Gabe Feldman, director of the Sports Law Program at Tulane University. "The small-market owners would love it, but the big-market owners wouldn't. It's not just a struggle between the owners and the players. It's a struggle between the owners and the other owners."
The owners vs. owners issue comes up on another topic as well — revenue sharing. NFL owners share revenue from local television deals and the gate at arenas in a way NBA owners do not. National television revenue is split evenly in the NBA, but local revenue is not. So what the Knicks get from MSG or the Bulls get from a big market in Chicago is not shared with what the Grizzlies get out of small-market Memphis.
Another question: If you franchise tag a player, how many max deals should you be allowed to have? The Lakers have Kobe and Gasol basically at max deals, with Bynum not far behind (and a lot of good players making "middle class" money, something they can afford to do as a big market, high-revenue team, which smaller markets cannot). Every team that went deep in the playoffs was paying the luxury tax last year, it is not a coincidence.
The owners may want a franchise tag, but they need to get their own house in order, first.
And know this — while the NBA seems destined for a lockout as owners try to alter what they see as a player-friendly financial system, the NFL is headed for one as well as players try to change what is seen as an owner-friendly system.
There is no way the players are going to easily — or ever — accept an NFL like system. No matter what the owners want.