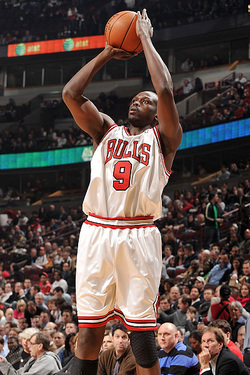 You think of Luol Deng as talented but not living up to his potential.
For the English national team, he is a savior.
And Deng has been cleared to play for England this summer, according to Britball. That drive starts Tuesday in a game against Hungary. He is hoping to help them qualify for the European Championships next summer, a run up to the 2012 Olympics in London (where England gets a spot as host nation).
"I'm glad Luol's back," said (team captain Drew) Sullivan. "Last summer he was around the team as much as he could and you could see how upset he was that he couldn't play at the Eurobasket finals, which is something we'd spent two years working towards. He was devastated that he'd helped us qualify and then, unfortunately, got hurt with the Bulls and didn't recover in time. From our perspective, we need him. We're a much better team with him."
He was a little late joining the team, due to Amare-like insurance issues. But he is there now.
Who else is on that England roster? Pops Mensah-Bonsu for one. Former Vanderbilt player Andrew Sullivan, and Dan Clark who plays in Europe. And from there it gets more obscure.
Deng makes that team far, far more formidable. But maybe still not good enough for the European Championships.