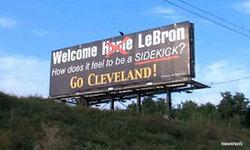 It takes time. We'll forgive the fine people of Cleveland for not yet being over having their hearts ripped out and stomped on in a national television show.
At least some of them are being clever about it.
Like the Omada Group, which is paying $3,000 for a billboard about two miles from James' Akron home, according to WEWS in Cleveland. You can see the billboard to the right, with the reminder he is now a sidekick. Well, LeBron doesn't see it that way, but you know…
Matthew Palumbo, one of the principals at the Omada Group, said he hopes the billboard sparks a grassroots campaign to let James know exactly where he stands in his home state since his decision to leave.
Oh, I think he'll find out the first time Miami returns to play at Quicken Loans Arena next season. May need some extra security on hand for that one.