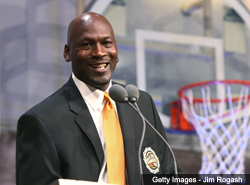 Charlie Rosen — the current author former CBA (the D-League before the D-League) coach and assistant to Phil Jackson at that level — took on an oldie but a goodie today: When will Kobe Bryant's age catch up with him.
He compares Kobe to the Michael Jackson career arc. Which is nice but not the interesting part of the article.
The interesting part is Rosen's claim for why Jordan went and played baseball.
MJ played baseball during the 1993-94 season when he was 30 and 31 for a reason that is not widely known. The Bulls GM, Jerry Krause, drafted Toni Kukoc in the second round of the 1990 draft, knowing that he was committed to playing in Europe for the next few seasons. Meanwhile, Krause boasted that Kukoc would prove to be one of the greatest players in NBA history once he came to Chicago. In fact, Krause privately predicted that Kukoc would be even better than Jordan, and that the Bulls would win multiple championships with Kukoc and without His Airness.

Jordan, of course, took exception to Krause's braggadocio, which was clearly designed by Krause to promote himself as a genius. Indeed, blame Krause for the ruthless manner with which both Jordan and Scottie Pippen absolutely manhandled Kukoc when they faced Croatia in the 1992 Barcelona Olympics.
Take this with a grain of salt. In fact, I'd get some really good Himalayan pink salt to go with this one, you're going to need the good stuff. But it's interesting.