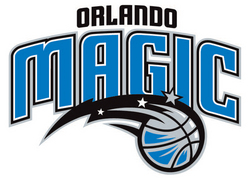 As it always does, the NBA has grand plans — they are going to unveil their opening games and the highlights (such as Christmas Day) on an NBATV special Tuesday night (7pm Eastern, if you want to set your DVR).
But as our own Matt Moore noted at the time, it's going to be hard for the NBA to keep a lid on the games that always leak out from teams in advance of the announcement.
The first: The Sports Business Journal is reporting the Orlando Magic will open the new Amway Arena in a game against the Miami Heat on Thursday, Oct. 28 in a nationally televised game on TNT. That according to Don Muret of the Sports Business Journal (via the Sporting News).
It makes sense, buildings are usually opened against a rival and a big draw. Right now in Florida, there is no bigger rival, no more sure sell out than Miami. LeBron James and Dwyane Wade vs. Dwight Howard and Jameer Nelson. The Amway Center also will host the All-Star Game in 2012.
Expect more leaks over the next day and a half leading up to the big show on NBATV.