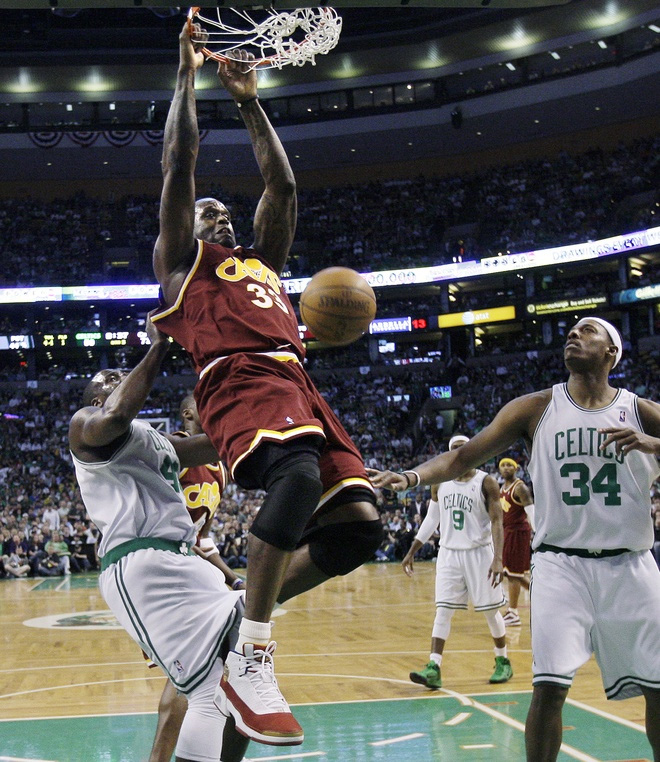 Shaquille O'Neal is still looking for a team. August has arrived, and the FMD (Former Most Dominant) is unemployed.
It seems reasonable that Shaq would be towards the end of the free agent acquisitions. He's in the awkward cross-section of expensive and old, both of which are in the short list of words that make GMs run screaming from negotiating rooms, bursting through walls like Roger Rabbit.
But we're still talking Shaq. Diesel. The Big Aristotle. Superm… let's not go down that road.
So let's take a look at what a player of Shaq's age, 38, can be expected to produce.
Last season, Shaq averaged 12 points, 6.7 rebounds, and 1.2 blocks at age 37 (he turned 38 in March while recovering from the infamous thumb injury). Those aren't exactly stunning numbers. But when you look at his production in comparison to that of other players his age, he looks pretty good. The average for a 37 year-old center is 5.4 points and 3.67 rebounds per game with .65 blocks. By that comparison, Shaq was beasting, even in limited games and minutes.
And that minutes part is pretty relevant. Obviously, any 37 year old player you're going to expect to play limited minutes. You're not really looking for great per-game numbers because his role is going to be limited. So how does Shaq compare based on per-minute numbers?
We'll use per-36, since that's the Basketball-Reference average, and if you were going to exhaust a player at that age, that's the limit you could probably expect them to play. The average per-36 for a 37 player is much more favorable, coming in at 10.8 points and 8.97 rebounds. Shaq averaged 18.5 and 10.3 per-36 last year. So his scoring percentage is in the elite of all 37 year-old centers historically, coming at 3rd on that list. His rebounds, on the other hand, were 7th among all 37 year-old centers.
It's at 38 that things get interesting. Centers at 38 averaged 14.5 minutes per game, compared to 16.7 minutes at age 37. The average for 38 year-old centers per36 minutes was 11.2 points and 8.8 rebounds per 36. Not astounding numbers, but at least fairly consistent and pretty decent for what you're likely paying for a 38 year-old big. What I was surprised to find is that for centers that played at both 37 and 38, their production didn't drop. They played 90% of the minutes they did at age 37, and actually produced at a higher per-minute clip (the per-36 rebounds for 37 year-olds were higher due to several players retiring after that season).
In Shaq, we're not talking about a bottom-feeder, either. We're talking about one of the most dominant players in NBA history. So what does he have to measure himself against, in terms of 38 year-old outstanding centers?
Bullets? Yes, bullets.
The standard bearer is, unsurprisingly, Kareem Abdul-Jabbar, who at age 38 averaged 25.3 points and 6.8 rebounds at 56% shooting in 33 minutes per game. That's just absurd. A 38 year-old man playing basketball averaging 25 points a game. I don't care if a cyborg was the one throwing him the passes, that's pretty incredible (Note: We actually think Magic Johnson would have a better assist rate than the cyborg.)
How about Robert Parish? The Chief averaged 14.1 points and 8.9 rebounds for Boston at age 38, for a 17.6-11.1 double-double per 36 minutes. That's greatness, right there.
Hakeem Olajuwon is the center Shaq is most often compared to, as Olajuwon was the greatest center in the league in the era before Shaq, with Olajuwon sliding out just as O'Neal hit his prime. Amazingly, all of Olajuwon's numbers went up at age 38 from age 37, as he played 26.6 minutes per game at 38 after playing only 23.4 as a 37-year-old. Olajuwon's production went up with the minutes increase, averaging 11.9 points per game at 38 compared to 10.3 at 37, and grabbing 7.4 rebounds per game compared to 6.2 at 37. His per 36 numbers were of course similarly improved. Olajuwon averaged 103% of his age-37 points at age 38 (16.1), and 106% of his age-37 rebounds at age 38 (If10.0) for another double-double performer per 36 minutes. That's why he's the dream.
If Olajuwon is the optimistic concept for Shaq to reach for, Patrick Ewing is, sadly, the warning sign. (I'm sorry for the reminder, Knicks fans.) At age 38, Ewing was actually with the Sonics, and saw his per-minute production and minutes plummet. He played 26.7 minutes compared to 32.8 the year before, and while his rebounding stayed solid, only dropping .7 per-36, his points dropped from a respectable 16.4 to 13.0 per-36. His 9.6-7.4 performance was still good enough to land him fourth in points per game and tied for second in rebounds per game with Olajuwon. His per-36 numbers slid to 8th in points and ninth in rebounding per-36 from 7th and 6th respectively at 37. Ewing really is the concern if you're a team looking to evaluate Shaq.
But really, considering O'Neal's particular game, it's hard to get an idea of him. He averaged 23.4 minutes per game last year, so at the 90% production rate of the average 38-year old center, that puts him at 21 minutes next season. Is a 21-minute-per-game player worth the kind of money O'Neal is asking for? Obviously not, which is why there has still not been a team rushing to take him on. But on the flip side, Parish, Olajuwon, Ewing, none had the physical dominance of Shaq's sheer size, and these were no slight players in their own rights. Shaq will always have massive potential to influence a game because he is just that much to load. Then again, his work ethic and conditioning are always called into question…
Do you see the paradox? It's likely not the production teams are worried about, it's instead the built-in risks that have kept the bull market away from O'Neal.
Someone's going to sign the big fella. And considering how he ranks with the greatest players at his position at his age, it's going too far to say he doesn't have the potential to be an impact player. How his 38th year ends will be up to him, just as it always has been.