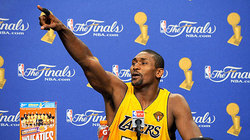 Ron Artest may or may not be crazy, you can make the call on that. But the man is not simple.
As fans we tend to think of professional athletes as two dimensional, and we tend to care far more about what they do at their job than we do about them as people. We like to fit them into neat, stereotypical boxes and leave them there, even if that is not the truth.
We are drawn to the players and people who don't fit in those boxes. In truth, not a lot of players do, but most keep the other parts of their lives — family, relationships, problems — out of the spotlight, so we just see the parts that fit our preconceived notions.
Some players blow that box up. Artest is one of those, and as such he's been labeled as crazy. But it would be a better world if more people were as self-aware as he is.
That's what comes across in a fascinating Q&A in the latest ESPN the Magazine. Which starts with his answer to the question "are you crazy?"
What's crazy? You need to decide. On Twitter you could say I'm pretty crazy, or you could say I just have a weird sense of humor. Off the court you could say I'm pretty crazy, or you could say I'm just ghetto. On the court you could say I'm pretty crazy, or you could say I just play really hard. To each person, I could be a different person. So you need to decide. Of course, there have been times when I've done crazy things. But I don't think I'm crazy. I just grew up in a crazy world.
Artest is frank about the problems in his past, including the impact of his parents divorce.
Alcohol was part of the problem. At 15 I started to get twisted, and at 16 I was getting lit up on a regular basis. By the time the Bulls drafted me, I'd drink in the house all day, then go play a game. But I stopped drinking heavily in Sacramento. I'm sure I wouldn't have made the same mistakes if I hadn't been drinking. Was I crazy, or was I not sober enough to have a clear mind? That's the question.
He also talks about sobering up and what he has learned from counseling.
Every time we talked about my problems — at home, in my life, whatever — it would always come back to basketball. She helped me realize that. So we mostly talked about basketball. We talked about my moves, my shot, and how all of the pressure I felt about my game was interfering with the rest of my life. Like, I found out that an argument with my wife was because I had a bad game, and I had a bad game because Coach Jackson was getting on my nerves. I'd bring that stress back home. It was a cycle. Dr. Santhi (Periasamy) said, "Solve the basketball problems, and you'll solve the rest." Now, I can take the pressure, the anxiety, the heat from the media and fans, and it doesn't faze me. I don't rush anymore. I'm not anxious for a game, or to get my shot. Everything will come to me. Dr. Santhi helped me figure that out.
Phil Jackson still gets under his skin. He loves Indiana. He makes up his own motivational quotes. Really should go read the Q&A, because Artest doesn't fit neatly into this post, either.