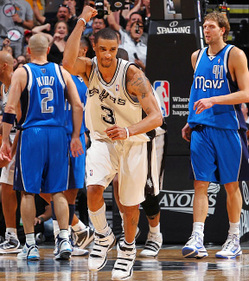 George Hill had Tony Parker's starting job by the end of the season and through the playoffs.
That has a lot of team executives who covet Parker (and fans of other teams and media members) thinking the Spurs will try to trade Parker this summer. It's easy to make it work from your team's perspective because Parker has value both as a player and as a big expiring contract.
It's a lovely little dream based around the premise that Tony Parker is expendable in San Antonio.
Gorge Hill does not see it that way, as he told the Express-News.
"I've heard that (stuff)," Hill said, "but I don't think a player like Tony Parker, a guy who has helped this team win and has championships under his belt, can ever be considered expendable.

"Right now I don't pay any attention to it. 'TP' is my teammate, and that's all I'm riding with. Hopefully, I still get to play alongside him next year in that 1-2 combo situation."
Can you picture a Spurs lineup to close games of Hill, Parker, Manu Ginobili, Tim Duncan and Tiago Splitter? Not many teams could match that.
Remember, Parker was injured for a lot of last season. He is only 28 years old, really just reaching his peak. If back healthy, he is still a force, still one of the quicker point guards in the game with a great feel and that beautiful teardrop. You don't trade somebody like that.
One other thing — you have to love Hill's attitude.
"Whatever Coach Pop needs me to do," that's what I'll do," he said. "Whether it's playing the point guard position and starting, or playing the two-guard position and starting there, or coming off the bench. Whatever he wants me to do to help this team win ballgames, that's what I'm down with.

"All the accolades, starting or whatever, doesn't mean anything to me. I just want to win and be the best teammate possible, the best player possible. Everything they say for me to do, I'm going to take it and run with it and do the best I can."