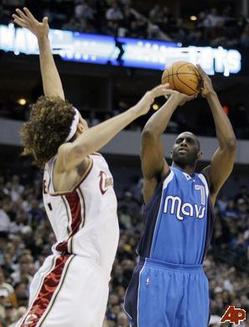 Tim Thomas played just 18 games for Dallas last year – there was knee surgery at the start of the season and having to leave the team to tend to his ailing wife for the second half of the season.
Thomas wants to return to Dallas this season and expects to get an offer, he told the Bergen Record.
"Last year obviously didn't go the way I hoped it would go, but things happen for a reason," said Thomas, who has averaged 11.5 points and 4.1 rebounds during his NBA career in which he has played for seven teams. "The people in that organization know I can help them, and I'm just looking forward to getting the chance to do that again…"
 
"The most important thing for me at this point, at my age and [going on] 14 years in the league, is to put myself in a situation where I have a chance to win a championship," Thomas, 33, said. "Dallas is that type of situation."
He will most likely get that offer a one-year, veteran's minimum offer from Dallas.
He would play a handful of minutes behind Dirk Nowitzki and Shawn Marion, but he is a good veteran to have on the bench. Thomas played well in the 18 games he did play for Dallas last season, maybe his best play in five years or more. He shot 37 percent from three, and remains a "stretch four" that can be used to create matchup problems for some teams.