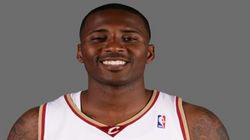 Police are investigating the death of former NBA player Lorenzen Wright as a homicide after a coroner's report listed the official cause of death as a gunshot wound.
The timeline starts just before midnight on July 18, when Wright left the house of his ex-wife who lives in the Memphis area, where he had been visiting his children. Several hours later a brief 911 call came from Wright's cell phone to a Germantown, Tenn., dispatcher and gunshots were heard. On July 22, Wright's family filed a missing person's report.
On July 28 police found Wright's body in the area where the 911 call had come from.
The Memphis Commercial Appeal has another chilling detail in its new story on the murder.
Sherra Robinson Wright opened her front door one day in recent weeks to find three men she had never seen before, each with guns tucked in their waistbands.

They looked serious and wanted to know if her ex-husband, former NBA star Lorenzen Wright, 34, happened to be inside the Whisperwood Drive home visiting his six children.

No, she assured them, and they drove away.

The frightened Collierville mom rushed to tell her divorce attorney, Gail Mathes, about the scary ordeal and her fears for herself, her children and the ex-husband she still loved, Mathes said.
Police are saying very little about the investigation, which is customary. Often in these cases, the more police think they are close to solving the case the less they say publicly for fear of tipping their hand to suspects.
Wright played his college ball in Memphis and also was a member of the Grizzlies during his 13-year NBA career, which ended just two seasons ago.