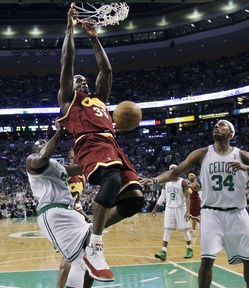 Boston wants one more center, one more big man on the roster.
The two best out there: Shaquille O'Neal and Kwame Brown. And according to Marc Stein of ESPN the Celtics are looking at those options.
The problem? The Celtics only have minimum money left. Sources say they're having trouble getting Brown to accept those wages, so you can imagine where Shaq stands on the idea.
Um, that's not the only problem, but it's one of them. Boston can only offer $1.3 million to either of them, the veteran minimum.
On the court, it's not even close, Shaq is still the better player by a long shot. He can defend big bodies, he still shoots well (56 percent last year) and stays within himself. He had a PER of 17.9.
But off the court, Shaq brings the circus to the Celtics locker room. It's a lot of media and Shaq vs. and him hanging with Justin Bieber and Shaq the Boston cop and so on. The Celtics are a veteran locker room, they can withstand it. But should the front office force them to? Plus, he is really less likely to sign for the minimum.
Brown likely will sign for the minimum. He'd like to get more, but he may not have a choice. But on the court he is a terrible fit. He has terrible hands, and while his man-to-man defense can be good his defensive rotations are a disaster. The defensive rotations are a key to what goes on in Boston.
If I were the Celtics, I would be looking for door No. 3.