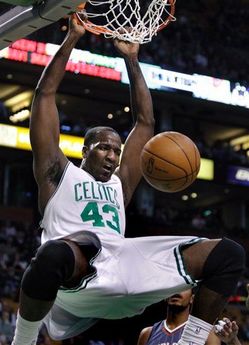 The Miami Heat are going to be a regular season force — with little time to prepare for them (and there is little time in the regular season for teams) it will be hard to find and execute the little things that could slow LeBron, Wade and Bosh.
But what about in the playoffs? In a seven game series where you are focused on just one team.
Boston's Kendrick Perkins told KILT in Houston that he thinks Boston could fare well against Miami in the postseason.
"It's not hard. I think we proved that this year. It's not important where you finish in the regular season in my opinion. If you got a team that has just one goal, the goal is getting into the playoffs. Last year we finished the year at 17 and 17. That wasn't even above .500. That was right at .500 record.  A lot of people were counting us out but we knew what we were waiting on. We were just waiting to get to the playoffs. When you get to the playoffs, it's a totally different game. It's not more fast paced, it's all slowed up, it's more of a half court set, and it's more physical. It looks good on paper with Miami and stuff like that, but at the same time each team is going to come at you. You gotta be prepared. It would be nothing more than amazing for us to meet up with Miami and beat them. I think any team would love to upset them. They've got a lot of pressure on their end. Forget the other teams have to play against them, they've got a lot of pressure on their end to win, to actually produce. It won't just be as if you're gonna get three All Star players and then you win a championship. You gotta have the right coach, everybody has to sacrifice, you gotta be willing to move the ball, it's gotta be about team, and you gotta be able to play defense. We'll see when it's time to match-up so we can just go from there."
Perkins is right — talent like Miami now has gets you regular season wins, but it takes another level to get a title. The Heat may be able to reach that level (Wade has), but they are going to have to prove it. Boston already has shown they get it.