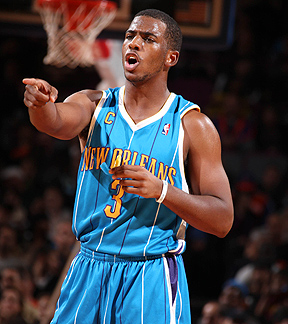 Chris Paul has started to play it smart.
The Times-Picayune is reporting that Monday's meeting between Paul and new GM Dell Demps and new coach Monty Williams bought the franchise some time.
After hearing Demps' plan for retooling the roster, Paul, a three-time All-Star, is on board with the team's direction and will not seek to force a trade, according to sources close to him.

"Anything can happen. We're right at the beginning of August, and training camp doesn't start until the beginning of October, " a source close to Paul said. "They made the right choice hiring Dell. We knew the Spurs talked very highly of him, so that's all we could go off. But (Paul) said it was a great meeting."
Of course he is saying that. Whether he still wants to be traded or not he is going to say that. It is the smart thing to do.
The very public effort to force his way out of New Orleans lowered his trade value. Even if the Hornets felt they needed to move him, they have him under contract for two years so they could take their time. The Hornets would want a good offer back for Paul, they were only going to get lowballed if there was pressure to move him fast.
Plus, the public pressure by Paul and his people was casting him in a bad light, as an impatient and impudent superstar.
Then there is the whole question of what ownership wants to do, which leads to the question who is the owner in six months?
So what we can really read into this is nothing. As in maybe he does want to stay. As in the Hornets are not going to move him soon anyway, and if they do at some point it will come quietly and quickly. Not in a public bidding process where the seller is pressured.
Nothing to see here, move along.