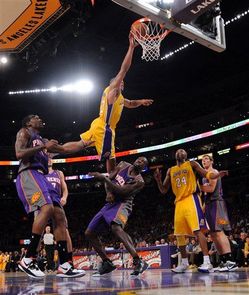 The Lakers are waiting to sign Shannon Brown, hoping to move Sasha Vujacic's $5.5 million to save some money first.
The Knicks aren't waiting, they have jumped in.
New York has made an offer to Brown, according to Ken Berger of CBSSports. They are waiting to hear back, Brown is choosing whether to go to New York, Cleveland or wait to see of the Lakers can indeed move Vujacic.
Brown is an explosive athlete who finishes with authority on the break — a very good fit for Mike D'Antoni's system in New York. With Amare Stoudemire, Anthony Randolph and Brown, the Knicks could be their own dunk highlight reel this season. Oh, and Felton Brown would be pretty happy.
The Lakers would prefer Brown to Vujacic backing up Kobe, but they are already the highest payroll team in the league and are looking for ways to trim that a little. Moving Vujacic would be a big help, but finding a taker who can give only a non-guaranteed deal or picks back is a challenge.