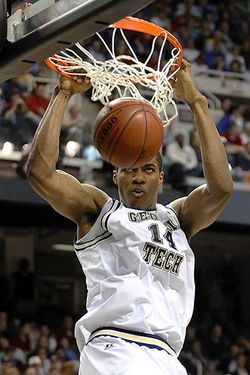 In his last head coaching job, Avery Johnson whittled down the patience and nerves of his players over about three seasons. There's apparently only so much of Avery — or, in fairness, of that Avery — that a team can take, and by the time he was let go by the Dallas Mavericks at the end of '07-'08, he had long lost his team.
Maybe avoiding a similar result is a point of emphasis for Johnson during this time around, because he seems quite laudatory of his players in New Jersey right off the bat. Here's what the Nets head coach had to say about No. 3 pick Derrick Favors, via Chris Tomasson of NBA FanHouse:
"He reminds me of Duncan in the way he's coachable," the New Jersey
coach said in an interview with FanHouse about Favors, taken with the
No. 3 overall pick out of Georgia Tech in last month's draft. "Duncan
was that way, very coachable, but also very skilled. Duncan came in
with the left and the right hand and came in with the ability to shoot
the ball. And this kid didn't even go through college as long as
Duncan. We're just getting him after his freshman year."
Riiiight. So Favors is essentially Duncan without all the things that made Duncan, Duncan. Avery also forgot to mention that TD was a ready-made NBA defender from the moment he stepped into the league, whereas Favors is clearly a work in progress on that end. Favors shows promise, but it's a tad ridiculous to compare him to Tim freaking Duncan on the basis of promise alone. Before those words even come out of your mouth, you should demand to see baby hooks, bank shots, and sweet pick-and-roll coverage, at the very least.
If you go back far enough, I'm sure a lot of NBA bigs reminded someone of Tim Duncan. Hell, at one fetal stage or another, I'm sure Tim and I had a lot of similarities: soft, formative skull, long arms relative to fetal length, y'know, the usual draft profile tidbits. Favors may have the size and athleticism that GMs dream about, but until he does, well, anything in the NBA, comparisons to any former or current player are a tad premature. I'm sure he vaguely resembles plenty of guys, but for now, he's just trying to play like Derrick Favors.