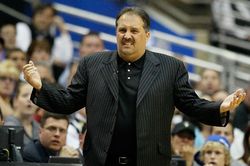 Bombs away, Orlando.
The system of Dwight Howard in the paint and host of guys chucking up threes around him is not going anywhere soon — the Orlando Magic have extended the contracts of coach Stan Van Gundy and General Manager Otis Smith through 2013, according to the Orlando Sentinel. Smith is now the president of basketball operations, which we hope for him is not one of those "we're giving you a new title instead of a raise" moves. Those suck.
Smart move by Orlando — this was a below .500 franchise when these two came in, and now they are title contenders. They built a team that plays good defense. They built a team that matches up well with the Miami Heat (what, you think Joel Anthony is going to slow Dwight Howard?).
Orlando has won 59 games the last two seasons, been to an NBA finals and will be right in the mix in the East again. This is a case of the GM and coach being on the same page — Smith has brought in talent to match Van Gundy's system. Sounds logical, but look at half the teams around the league and tell me if it looks like coach and GM are even speaking.
Orlando just keeps on making smart moves. Everyone notes that the Magic lost veterans in Jason Williams and Matt Barnes, but buy replacing them with Quentin Richardson and Chris Duhon the Magic just got better shooters, as Orlando Pinstripe Post points out. It may not seem like great pickups in terms of names, but it's a fit.
Orlando is not the sexy team in Florida anymore, but they may still be the best. We won't know that until the playoffs, but this team is good and it is a contender once again.