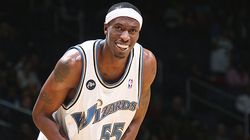 So a John Wall, Gilbert Arenas, Kirk Hinrich and Josh Howard back court rotation? Not shabby, not shabby at all.
The last of that came together Wednesday when Howard agreed to a one-year deal that, with bonuses, could be worth near $4 million, Howard's consultant told Marc Spears of Yahoo.
Howard came over to Washington as part of the Brendan Haywood trade (seems like he was the bigger piece than Caron Butler right now, doesn't it?). Then because it was the Wizards "Season in Hell" he blew out his knee three games in. He will be back next season.
The Wizards have some good players on the roster — the four guards, Andray Blatche in the paint with JaVale McGee in the mix, plus Al Thornton. Not a lot of pure shooters, but if the Wizards run like they should with Wall — like Sam Cassell said was the plan for the season — they should be able to get buckets. They have guys who can finish.
The Wizards are not going to challenge Orlando and Miami for Eastern supremacy, but they could be a whole lot of fun to watch.